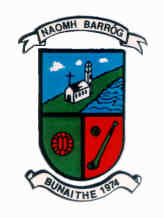 Naomh Barróg Golf Society Rules
Contact number 01 8396963
General Rules
There will be a least seven outing of the Society.

A time sheet will be in operation for all outings.

This sheet will be available behind Bar (Naomh Barrog GAA Club) 14 days prior to outing date.

It will be removed on the Wednesday before the outing for evaluation.

No late entries will be accepted after this date and the time sheet will be strictly adhered to.
As the Society membership is now over 50 it is imperative that the "time sheet" for each outing is filled in as soon as possible in order for the Committee to ascertain the numbers attending the outing.

Each course has been booked for a specific tee time and a specific duration.

Should our requirements exceed the time allocated the Committee must know as early as possible in order to attempt to facilitate all wishing to play.
All members are requested to arrive at the course 30 minutes before tee off time and at the tee box at least 10 minutes before tee off.

Should a team arrive missing any players the team will be required to tee off and the missing player miss out.

Should an entire team be late the slot will be filled by the next team ready and if time permits the late team will tee off last.

Society members will have priority over visitors on timesheet due to the shortage of space available.

The outing arranged for Captain's Day will be designated at the beginning of the season.

In relation to qualifying to win the Captain's Day prize members will be required to have played at least three regular season outings.

The overall cost of green fees and prizes will be spread over the six outings and as a result each outing will cost approx. €50.00, with the exception of the Captain's Day.

A visitor prize will be provided at each outing.

Visitors will be charged the green fee on the day.

The following clothing/footwear is prohibited on golf courses and in the club house tennis shoes, runners or training shoes.

A special prize of "Golfer of the Year" will be awarded on Captain's Day.

This will be decided by the accumulation of points scored from the best result of five of the seven outings including the Captain's outing.

In order to ensure a sufficient number of prizes for the various outings it is proposed the sponsorship will be sought towards the provisions of prizes.
On an Annual basics.